GHS Wrestling Club Information 2007-2008
The Guilford Wrestling Club meets the second Monday of every month at the Community Center in downtown Guilford. Parents, friends, and coaches gather together in support of the GHS Wrestling Team. At the meetings we discuss and plan for the season's activities. All are welcome.
STONE BY STONE WE BUILD A FOUNDATION OF PRIDE!
Pride
If you are interested in joining the Guilford Wrestling Club, or volunteering any of your time, please contact:
Bonnie Lambertonrelamberton@sbcglobal.net
488-8418/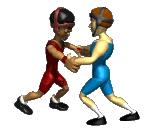 Remember: Wrestling season begins in the off season...Don't forget to train year 'round!